Providing Excellent Service
We are extremely committed to providing the best service to our customers, as we believe in going beyond the call of duty. We provide the following IT solutions at the most competitive prices in the industry, together with the excellent service:
1. Domain Name Registration
We provide a whole suite of domain services, including domain name registration, domain name recovery and domain name audit. We register the following domains at very competitive prices:
| | |
| --- | --- |
| Singapore Domains | .sg, .com.sg, .net.sg, .org.sg, .edu.sg, .per.sg |
| Other Countries | US, China, Taiwan, Japan, Malaysia |
| Global Domains | .com, .net, .org, .biz, .info |
Your domain name registration can be done within 3 hours on business days. Please contact us for more info on registration requirements.
2. Website Design / Hosting / Maintenance
We provide the most competitive website design / hosting / maintenance package in the industry. Our team of professional designers are not only creative but also technically savvy. The website designs are customized and tailored to our customers' business needs.
3. Dedicated Server Hosting
The dedicated server hosting is ideal for high-traffic, huge-database-driven business and corporate websites. We provide both Windows and Linux-based hosting solutions. We have comprehensive packages for Web/Mail Server, Database Server, and Application Server.
4. Web Application Development
We provide custom web application solutions. We design both front-end graphical user interface and back-end coding. Our senior programmers are well-versed with ASP.Net, VB.Net, C#, Java, PHP, etc.
5. Web Content Management
Tailored to the specific interactive websites, our web content management offers complete features and functionalities for content authoring, delivery and development, so as to enable your business to effectively create, deploy and manage internet, intranet and extranet websites.
6. E-commerce Development
Our e-commerce development solutions let your customers select and order your products at your website. We provide one-stop service: front-end online store design, product catalogue, secure online payment and administrator's back-end management.
7. Business Process Automation
We provide integrated workflow automation for businesses, using Microsoft application suite as well as open-sourced software, to enable productivity, accountability and compliancy effectiveness.
8. Strategic Hardware / Software Consultation
We provide hardware / software consultation for free-of-charge. Our highly trained IT experts are at your service, to help you strategize your IT blueprint.
9. Customized Enterprise Software Development
Our next-generation customized enterprise software development includes Customer Relationship Management, Billing Management, Inventory Management and Document Management System, etc., to centralize your operational resources and functions. All our ESD projects are tailored to suit your specific business needs.
10. Database Design and Development
We design and develop databases to help your business collect important information - both online and offline. All your data collection needs such as customer data, online forms, surveys, e-commerce sales, supplier info, are organized in such a way that it can be valuable to your business intelligence.
11. Data Backup Management
We offer data backup management to provide a reliable and scalable information management solution to help protect valuable data loss. Whether be it a tape, disk, or hybrid platform, our solutions will simplify the data backup procedure and reduce storage costs.
12. Business Continuity Planning
We provide strategic business continuity planning, which is to ensure customer retention by minimizing the length of business interruptions under exceptionally adverse operational conditions.
13. IT Security Management
Our IT security management includes security planning, control design, preventive implementation and vulnerability management.
14. IT Outsourcing
If you are looking for an affordable, yet reliable, offshore IT outsourcing solution and don't know how to go about doing it, you have come to the right place!!! Based firmly on the principle of "3Ts" (Teamwork, Trust and Technology), we provide offshore back-end coding for software development projects.

Special Promotion
Save $1,000!!! Set up a website for just $888!
(Normal Price $1,888)
One ".com" name

1,000 MB storage space

Unlimited email accounts

Unlimited bandwidth

Free Web design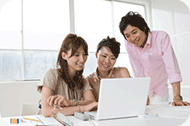 "We are here to put a dent in the universe. Otherwise why else even be here?" — Steve Jobs (CEO of Apple Computer Inc.)