Announcement

You can read our news announcement here.


Free Hosting for Non-profit Organizations
(3rd December 2006)

Today marks a major milestone for ZillionTech. To celebrate this joyous and auspicious occasion, we would like to make a major announcement that we will be providing free website hosting for any legitimate non-profit organization. We call it the "Golden Society" plan.

To be eligible for this plan, the organization must be (1) "not-for-profit", (2) registered or is about to be registered with the Registry of Societies and (3) making a difference in the community*.

(* The first two conditions will be waived if we are convinced that the organization is of substantial value to the society. E.g., providing free meals to the homeless/needy, supporting underprivileged school-going children, etc.)

This "Golden Society" plan comes with a 300 MB storage space, unlimited bandwidth and unlimited email accounts. So, if you represent/know of such an organization which can benefit from our "Golden Society" plan, please contact us right away!


---
Adoption of Official Charity
(25th December 2006)

In the spirit of Christmas, we, at ZillionTech, would like to announce that we are adopting School Pocket Money Fund as our main charity beneficiary. This is in line with our policy of giving a helping hand in whatever way we can.

SPMF was founded by The Straits Times on Oct 1 2000 to help underpriviledged children from low-income familites. These children go to school without breakfast and without pocket money to buy lunch at school. Currently, there are over 10,000 kids benefiting from this charity.

We have made our first donation and would like to call for our friends, family members and business partners to bring rays of sunshine to those children. If you'd like to donate, you can make the cheque out to "The Straits Times School Pocket Money Fund" (with your name and contact number written on the back) and send it to:

The Straits Times School Pocket Money Fund
Singapore Press Holdings Limited
Finance Division
1000 Toa Payoh North
Singapore 318994

Please visit the official website.



Special Promotion
Save $1,000!!! Set up a website for just $888!
(Normal Price $1,888)
One ".com" name

1,000 MB storage space

Unlimited email accounts

Unlimited bandwidth

Free Web design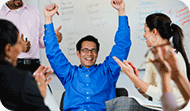 "Everyone wants to be successful, but I want to be looked back on as being very innovative, very trusted and ethical and ultimately making a big difference in the world." — Sergey Brin (Co-founder of Google Inc.)